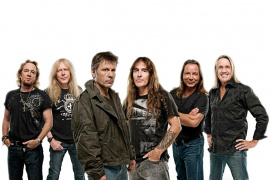 IRON MAIDEN tickets
Iron Maiden are an institution. Over the course of nearly 40 years they have come to embody a spirit of fearless creative independence, ferocious dedication to their fans, and a cheerful indifference to their critics that's won them a following that spans every culture, generation, and time-zone. A story of gritty determination and courageous defiance of the naysayers, theirs has been an adventure like no other, and with the rapturous receipt of their 16th studio album they're showing no signs of slowing down. An album that neatly encapsulates Iron Maiden's huge creative range, The Book Of Souls is nothing less than a 92-minute masterpiece - a cannon-blast of exuberant, anthemic bravado that serves as cast-iron confirmation of just how much they have left in the tank. From the infectious, stadium-skewering hooks of The Red And The Black to the lofty ambition of the 18-minute Empire Of The Clouds, it's the artistic summation of everything that's given Iron Maiden such deep resonance and universal appeal. Like the breathless excitement and scale of their stage shows, their remarkable new double-album is emblematic of a stout-hearted refusal to do anything by half-measures and an irrepressible sense of fun.

Founded by bassist Steve Harris in the mid '70s, Iron Maiden were already firmly established as heavy metal's brightest hopes when they stormed the world with their third album (and first with vocalist Bruce Dickinson) The Number Of The Beast in 1982. It would kick off a decade of classic releases and dogged touring that would come to epitomise the unrelenting, uncompromising, unswerving commitment they are now so well known for. That marvellous decade would also yield seven new studio albums, one live album, seven World Tours, as well as the creation of Eddie - one of the most iconic and recognisable figureheads of our age and the calling card of the most impassioned fan-bases anywhere.

What makes these qualities even more notable is that they developed almost entirely without the acknowledgement of mainstream media. While celebrity culture and the next big thing occupied the airwaves, Iron Maiden were embarking on the marathon 192-date 1984/5 World Slavery tour, playing at Rock In Rio in 1985, and mounting a command performance at the biggest-ever Monsters Of Rock festival at Donington in 1988 with 107,000 fans in attendance. But it's really Iron Maiden's iron-clad resolve to always push the boundaries that gives their career such astonishing distinction. From groundbreaking performances in Poland behind the Iron Curtain in 1984 at the height of the Cold War, around South America in 1991, through the Middle East and India in 2007, and Indonesia in 2011 among many others, Iron Maiden's relentless forward momentum has left an indelible impression on the globe.

The '90s proved to be a difficult time for heavy metal bands in general, but Iron Maiden ploughed forward, notching up yet more success with albums like 1992's acclaimed Fear Of The Dark and even weathering the departure of Bruce Dickinson in 1993. The band made two strong albums with new singer Blaze Bayley and continued to honour their commitment to intensive touring. However, it was the return of Dickinson and guitarist Adrian Smith (who originally left the band in 1990) in 1999 when Iron Maiden became a six-piece, that established the ultimate Iron Maiden line-up of Bruce Dickinson on vocals, Steve Harris on bass, Nicko McBrain on drums and "the three amigos" – Adrian Smith, Dave Murray and Janick Gers - on guitar, heralding a new golden age with the release of Brave New World album in 2000. With both 2003's diverse and ingenious Dance Of Death album and its dark and daring follow-up, 2006's A Matter Of Life And Death, they dazzled fans and critics alike. With each successive tour, whether revisiting classic songs from their first few albums or refusing to succumb to a nostalgia by playing A Matter Of Life And Death in its entirety, Maiden have accrued countless new young admirers by never being predictable while remaining predictably brilliant.

This brave new Maiden era reached an astonishing zenith during the band's Somewhere Back In Time Tour that began in February 2008 and initially took the band 50,000 miles around the world in 45 days, flying in their own specially chartered Boeing 757, Ed Force One, piloted by Bruce Dickinson, a qualified airline captain, traversing the planet, from India to Costa Rica, Australia to Argentina, Sao Paulo to Tokyo. Ed Force One made TV news headlines around the world and the coverage of that tour was subsequently turned into an award-winning film and DVD Flight 666. Released in 2009, that stunning document of life on the road (and in the air) hit the No.1 slot in the music DVD charts in 25 countries, the same year the band picked up their first ever Brit Award for Best British Live Act.

More feats would follow - from reaching the number one spot in more than 28 countries simultaneously as well as reaching an all-time high of #4 on the Billboard with The 2010's The Final Frontier, to the ensuing tour aboard Ed Force One which saw them hitting five continents in 66 days, to earning their first ever U.S. Grammy for Best Metal Performance for the song El Dorado, Iron Maiden's most recent chapter is testament to their startling vitality.

In 2013 the Maiden England world tour took the band into Europe, the States, and South America, most notably hitting Brazil yet again for Rock In Rio which sold out 90,000 tickets within hours. That legendary year also saw a return to UK's Donington Park on the 25th Anniversary of the band's legendary headline 1988 performance during the Seventh Son World Tour. This was a record fifth time that the band topped the bill at Donington, following two Monsters of Rock performances (1988 and 1992) and two spectacular Download Festivals (2003 and 2007).

Iron Maiden closed their Maiden England world tour in July 2014 headlining at Sonisphere Festival, Knebworth, delighting the crowds by having The Great War Display Team featuring Bruce Dickinson among its pilots, stage a sensational aerial dogfight in the skies above the Festival with Bruce flying his very own WW1 German Fokker Dr1, just hours before taking to the stage. The ensuing Maiden show marked the final chapter in the band's trilogy of tours performing their 80's repertoire. After 100 shows in 32 countries playing to well over two million fans, it was a crowning achievement for a band whose formidable drive and now mythical ability to catalyse legion of fans regardless of culture or creed.

With over 90 million album sales, more than 2000 live performances in 59* countries, tens of millions of fans and 16 studio albums of unerring quality and power to their name, Iron Maiden have more than earned their proudly-held status as one of the most influential and revered bands of all time. Now poised to take to the road and the skies yet again, this time with their very own 747 Jumbo Jet piloted by Bruce Dickinson, Iron Maiden's 2016 tour will see them hitting six of the seven continents and 35 countries, including first-ever performances in China and El Salvador. Sure to be history in the making, it's more than mere proof that the fearsome tenacity that first propelled Iron Maiden into the stratosphere all those years ago is still there. It's cast-iron confirmation of the heroic, indefatigable qualities that have given Iron Maiden such enduring, universal appeal.

Alexander Milas, September 2015


*countries Iron Maiden have played:
Argentina, Australia, Austria, Belgium, Brazil, Bulgaria, Canada, Chile, Colombia, Costa Rica, Croatia, Czech Republic, Denmark, Dubai, Ecuador,England, Estonia, Finland, France, Germany, Greece, Hungary, Iceland, India,Indonesia, Israel, Italy, Japan, Luxembourg, Macedonia, Malta, Mexico, Netherlands, New Zealand, Northern Ireland, Norway, Paraguay, Peru, Poland, Portugal, Republic Of Ireland, Romania, Russia, Scotland, Serbia, Singapore, Slovakia, Slovenia, South Africa, South Korea, Spain, Sweden, Switzerland, Turkey, Ukraine, Uruguay, USA, Venezuela, Wales.
Eventalarm for IRON MAIDEN