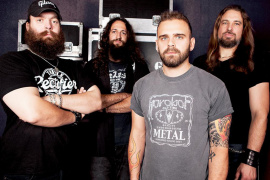 GODSIZED tickets
Godsized draw their inspiration from a wide range of influences such as classic rock giants Black Sabbath, Led Zeppelin, ZZ Top, along with more contemporary acts such as Down, Alter Bridge and Clutch.

The stage is where Godsized are most at home. Over the last 3 years they have played over 300 shows, including performances at prestigious festivals including Bloodstock, Hammerfest, The Bulldog Bash, and Download Festival – one of the band's fondest memories.

Godsized made its European debut as main support to alt – rock pioneers Life of Agony, where they were overwhelmed by the audiences' response. Soon after they were able to capitalise on Zakk Wylde being a fan of the band – upon hearing the "Brothers In Arms" EP, Godsized were honoured to be offered the main support for a six week tour of UK and Europe. This amazing and
unique opportunity gave them a chance to cement their own fan base across Europe, and further tours with My Ruin, Monster Magnet, and Saxon have supported that.

They released their first full length record, "Time", to critical acclaim, and enjoyed a chance to show a side to themelves other than performing. The road soon came calling, and the band headed out on their own headline shows across Europe to support the record on the "11th Hour" tour.

Godsized have now begun working on the follow up to "Time", but that won't keep them off the
stage.