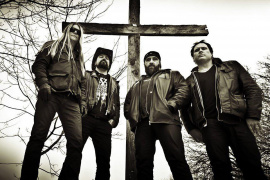 TRANSPORT LEAGUE tickets
When Tony Jelencovich recorded the first Transport League album at the end of 1994, he was still the vocalist of B-Thong. At that period this band was considered as a side-project but, when the album was finally released in February 1996, Tony had left B-Thong as of musical differences. He just wanted to play his own music and decided to focus on Transport League and turn it into a proper band. The reactions on "Stallion Showcase" were very good and the album was released almost worldwide and the term "Boogie from Hell" was stated.

Transport League then released several albums, Superevil in 1997 thru Mascot Records & Satanic Panic in 2000 thru Pavement Records which all where recorded with Roberto Laghi at his Oral Majority Recordings in Gothenburg/Sweden.

This album was released in April 1997 and just got great reviews and interviews all over Europe. They played as headliner in Scandinavia, France, The Netherlands and Switzerland. Transport League also played some major festivals here in Sweden such as: Hultsfred festival in 1997, Arvika Festival in 2001 and the huge Dynamo Festival in Eindhoven/Holland in 1998.

The video clip "Magnetic Star" from "Superevil" was broadcasted on MTV "Super Rock" for about 2 months and the late release in the States has been really successful (Transport League was voted "Most Overlooked Band 98" by the Trade Magazine FMQB).

Transport League disbanded in 2005, but was reactivated in 2009 by the original members. Transport League did some re-union shows, but also started to work on some new songs in the style of the two first albums "Stallion Showcase" and " Superevil", and the "Boogie From Hell" feeling was right there! The power, the groove, the energy, everything just felt right. The band recorded 14 songs at IF Studios with producer Roberto Laghi (In Flames, Sonic Syndicate, Mustasch, LOK, Dia Psalma) and released them self-handedly. The name of the record? You're guessing right: "Boogie From Hell"!

Eventalarm for TRANSPORT LEAGUE
Images