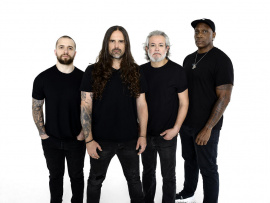 SEPULTURA tickets
Sepultura (Portuguese for "grave") is a Brazilian metal band from Belo Horizonte, formed in 1984. The band was a major force in the death metal, thrash metal and groove metal genres during the late 1980s and early 1990s, with their later experiments melding nu metal, hardcore punk and industrial metal.
Sepultura have released 12 studio albums so far, the latest being Kairos (2011). Their most successful records are Arise (1991), Chaos A.D. (1993), and Roots (1996). Sepultura has sold over 3 million units in the USA and almost 20 million worldwide, gaining multiple gold and platinum records across the globe, including in countries as diverse as France, Australia, Indonesia, United States, Cyprus and their native Brazil.
History:
Sepultura was formed in 1984 in Belo Horizonte, the capital city of Minas Gerais, Brazil. The band was founded by teen brothers Max and Igor Cavalera, the impoverished sons of Vânia, a model, and Graciliano, a well-to-do Italian diplomat whose fatal heart attack left his family in financial ruin. Gracilianos death deeply affected his sons, inspiring them to form a band after Max heard the album Black Sabbath Vol. 4 the very same day. They chose the band name Sepultura, the Portuguese word for "grave," when Max translated the lyrics of the Motörhead song "Dancing on Your Grave".
The brothers early influences included Led Zeppelin, Black Sabbath and Deep Purple, and the popular metal and hard rock artists of the early 1980s, such as Van Halen, Iron Maiden, Motörhead, AC/DC, Judas Priest and Ozzy Osbourne. They would travel to a record shop in São Paulo that mixed tapes of the latest records by American bands. Their listening habits changed dramatically after being introduced to Venom. As Igor Cavalera put it:
"I remember the first time I listened to Venom, it was on a friends borrowed tape. It was similar to Motörhead, only a lot heavier. I remember someone saying: its the devils Motörhead! After we got acquainted with Venom, we stopped listening to Iron Maiden and all that lighter stuff."
The Cavalera brothers started listening to bands such as Kreator, Sodom, Megadeth, Exodus and Exciter. By 1984, they had dropped out of school. After several early membership changes, Sepultura established a stable lineup of Max on guitar, Igor on drums, vocalist Wagner Lamounier, and bassist Paulo Jr. Lamounier departed in March 1985 after disagreements with the band, and moved on to become the leader of the pioneering Brazilian black metal band Sarcófago. After his departure, Max took over the vocal duties. Jairo Guedes was invited to join the band as lead guitarist.
After about a year of performing, Sepultura signed to Cogumelo Records in 1985. Later that year, they released Bestial Devastation, a shared EP with fellow Brazilian band Overdose. It was self-produced and recorded in just two days. The band recorded their first debut full-length album, Morbid Visions, in August 1986. It contained their first hit, "Troops of Doom," which gained some media attention. The band then decided to relocate to the larger city of São Paulo.
In early 1987, Jairo Guedes quit the band after losing interest in playing death metal. Jairo was replaced by São Paulo-based guitarist Andreas Kisser, and they released their second studio album, Schizophrenia, in 1987. The album reflected a stylistic change towards a more thrash metal-oriented sound, while still keeping the death metal elements of Morbid Visions. Schizophrenia was an improvement in production and performance, and became a minor critical sensation across Europe and America as a much sought-after import. The band sent tapes to America that made radio playlists at a time when they were struggling to book gigs because club owners were afraid to book them due to their style. The band gained attention from Roadrunner Records who signed them and released Schizophrenia internationally before seeing the band perform in person.
The bands third studio album, Beneath the Remains, was released in 1989. The album was recorded in a rustic studio in Rio de Janeiro while the band communicated through translators with the American producer Scott Burns. It was an immediate success and became known in thrash metal circles as a classic on the order of Slayers Reign in Blood. It is hailed by Terrorizer magazine as one of the all-time top 20 thrash metal albums, as well as a gaining a place in their all-time top 40 death metal records. Allmusic gave the album 4.5 stars out of 5 and said, "The complete absence of filler here makes this one of the most essential death/thrash metal albums of all time." A long European and American tour furthered the bands reputation, despite the fact that they were still very limited English speakers. Their first US show was held on October 31, 1989 at the Ritz in New York City, opening for Danish heavy metal band King Diamond. The band filmed its first video for the single "Inner Self".
In January 1991 Sepultura played for more than 100,000 people at the Rock in Rio II festival. The band relocated from their native Brazil to Phoenix, Arizona in 1990, obtained new management, and recorded the album Arise at Morrisound Studios in Tampa, Florida. By the time the album was released in 1991, the band had become one of the most critically praised thrash/death metal bands of the time. The first single "Dead Embryonic Cells" was a success, and the title track gained additional attention when its video was banned by MTV America due to its apocalyptic religious imagery. The album was critically acclaimed and their first to chart on the Billboard 200, reaching #119.
Max Cavalera married the bands manager, Gloria Bujnowski, during this period. In 1992, Sepultura was part of two major tours: Helmet/Ministry and Alice in Chains/Ozzy Osbourne. Reflecting on their past in Brazil at the time, Max Cavalera said, "Traveling on trains. Getting beat up by cops. Sleeping behind the stage. Its part of growing up. Its part of the nature of this stuff. If you dont have that kind of background, you cant be a band like us."
Sepulturas fifth album, Chaos A.D., was released in 1993. It saw a departure from their death/thrash metal style, adding elements of industrial and hardcore punk. Allmusic gave the album 4.5 stars out of 5 and wrote that, "Chaos A.D. ranks as one of the greatest heavy metal albums of all time." In 1994, Max and Igor, aided by Alex Newport of Fudge Tunnel, released an even more industrial-oriented album, Point Blank, under the group name Nailbomb. The group performed only one full live gig, and the performance was released as Proud to Commit Commercial Suicide.
Sepulturas departure from death and thrash metal continued with their sixth album, Roots, which was released in 1996. On this album the band experimented with elements of the music of Brazils indigenous peoples, and adopted a slower, down-tuned sound. The album was hailed as a modern day heavy metal classic. Allmusic gave it 4.5 stars out of 5 and said, "Roots consolidates Sepulturas position as perhaps the most distinctive, original heavy metal band of the 1990s."
In 1996, Sepultura played on the Castle Donington Monsters of Rock main stage alongside Ozzy Osbourne, Paradise Lost, Type O Negative, Biohazard and Fear Factory. The band was suddenly a three-piece with Andreas Kisser taking over on lead vocals, after Max Cavalera left the concert site earlier in the day upon learning of the murder of his stepson Dana Wells. Meanwhile, just after the release of Roots the band decided to fire their manager Gloria Bujnowski, who was Maxs wife and Danas mother. These events resulted in Maxs departure from the band. For many years, the true reasons behind his departure remained unknown. Max ultimately left the band after a performance at Brixton Academy in England on December 16, 1996, and later formed a new band, Soulfly. The remaining members of Sepultura announced that they would continue with a new lead vocalist. In 1996, Sepultura performed "War (Guerra)" for the AIDS benefit album Silencio=Muerte: Red Hot + Latin produced by the Red Hot Organization.
In an interview with Faceculture in 2010, Max Cavelera explains that one of the reasons why he left Sepultura was because Andreas Kissers wife attempted to arrange Dana Wellss funeral before Max and his wife Gloria Bujnowski could return home from England. Max later offered to allow Kisser and Paulo Jr. to be managed by someone else, while Max and Igor would retain Bujnowski as their manager, but Kisser rejected the plan. Max claimed in the interview that he regrets these events but a reunion is unlikely due to lingering disputes between him and Kisser.
Continue reading at wikipedia.com
Source and authors: Wikipedia / list of authors