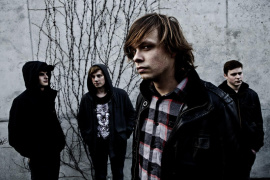 STEAK NUMBER EIGHT tickets
If ever the phrase 'an old head on young shoulders' was coined for a specific purpose then it would have to refer to young Belgian rock quartet Steak Number Eight. With a collective age of less than eighty years old this metal powerhouse had been inflicting their unique brand of sonic terrorism since 2008 when they were all but aged fifteen. They unleashed their debut EP 'When The Candle Dies Out…' the same year, ensuring the post rock / sludge metal teenagers left giant footprints across their native lowlands. Media frenzy followed them with mainstream newspaper and TV/radio coverage resulting in them being honoured by winning the HUMO's rock rally, hosted by Belgium's biggest rock publication thus propelling them to national treasure status.

In 2011 Steak Number Eight followed with their full length debut "All Is Chaos". A record of such titanic magnitude it earned them comparisons to such alumni as ISIS, Deftones, Mastodon, Killing Joke and Neurosis. Meanwhile their reputation for their earth shattering live shows drew crowds in droves to witness the spectacle. Performances at Graspop (BE), Pukkelpop (BE), Paaspop (NL), Ghost Fest (UK) and Dour Festival (BE) saw the youngsters evolve into a well-oiled machine capable of raising venues to the ground with the monolithic power of their music. Two years of intensive touring followed as the band broke free of the confines of their homeland and spread their wings further afield, hypnotising fans as they went whilst supporting the likes of Deftones, Textures and Feed The Rhino.

In 2013 the band unleashed album number two, "The Hutch" upon the world. Produced by Reinhard Vanbergen (The Hickey Underworld, Drums Are For Parades), mixed by Matt Bayles (Isis, Mastodon) and mastered by Howie Weinberg (Deftones, Faith No More) this eleven song behemoth clocks in at just over an hour and eleven minutes. Achieving the perfect balance between devastating guitars and a hopeful sense of melody, Steak Number Eight have come of age in both song craft and musicianship and grown into men that can stand side by side with their contemporaries. Steak Number Eight have made it their duty to turn (metal) heads towards Belgium in the most significant way in its history.
Eventalarm for STEAK NUMBER EIGHT
News