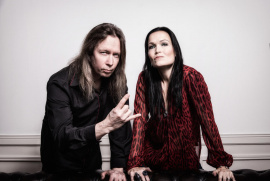 TARJA & STRATOVARIUS tickets
Es steht außer Frage, dass man Großes erwarten kann wenn die Königin des Heavy Rock, der strahlendste Stern der Symphonic Rock Scene und ohne Frage die international bekannteste weibliche Stimme Finnlands Tarja Turunen samt ihrer Band mit einer der erfolgreichsten, ausdauerndsten Power Metal Bands der Welt, die mit ihrem einzigartigen Mixe aus schnellem Progressive Metal und ihren eingängigen Melodien ein ganzes Genre geprägt haben, den Vätern des Symphonic Metal Stratovarius gemeinsam auf Tour geht!

Tarja erreichte ihre Berühmtheit als Sopranistin, Komponistin und Songschreiberin, während ihrer neunjährigen Zeit als Mitbegründerin, Stimme und Gesicht der finnischen Symphonic Metal Band Nightwish, mit der sie über die Jahre diverse Gold- und Platinum Auszeichnungen weltweit erzielte. Dies führte zu einer nicht weniger erfolgreichen Solo-Karriere als Tarja sich 2005 entschied ihren eigenen Weg zu gehen. Seitdem veranstaltet sie in Finnland und inzwischen auch international jeden Dezember ihre Christmas-Shows. Zudem führte Tarjas außergewöhnliche Fähigkeit, Rock und Klassik zu vereinen zu diverse Kooperationen u.a. mit Alice Cooper, Within Temptation, dem deutschen Elektrokünstler Schiller, Doro Pesch and dem britischen "Father of Tubular Bells" Mike Oldfield.

Die einzigartige Verbindung aus Tarjas Klassischen- und Rock-Einflüssen zeigt sich jedoch weiterhin am stärksten auf ihren Soloalben. Hiervon sind bis jetzt vier erfolgreiche, mehrfach mit Gold und Platin ausgezeichnete Alben entstanden. Das Debüt "My Winter Storm" (2007), darauf folgten "What Lies Beneath" (2010), und "Colours In The Dark" (2013) und ihr aktuellstes Album "The Brightest Void" / "The Shadow Self" (2016).

Nach der Veröffentlichung des unerwarteten und erfolgreichen Dark Christmas-Albums "From Spirits And Ghosts (Score For A Dark Christmas)"und der damit verbundenen Konzerte im Jahr 2017, ist Tarja nun bereit, mit ihrem zweiten Live-Video und zweiter Live-CD eine weitere Zusammenstellung ihrer letzten Heavy Rock-Alben zu veröffentlichen. Dem Konzept des Vorgängers folgend wird im Sommer 2018 ACT II veröffentlicht.

Nicht weniger wichtig, wenn nicht sogar wichtiger, als Alben und Kollaborationen, ist für Tarja aber live auf der Bühne vor ihrem Publikum zu stehen, so hat sie während ihrer bisherigen Karriere bereits mehr als 800 Shows weltweit aufgeführt.

Stratovarius ist eine der einflussreichsten, erfolgreichsten und beständigsten Power Metal Bands weltweit. Mit ihrem einzigartigen Mix aus schnellem Progressive Metal und ihren eingängigen Melodien hat die finnische Band ein ganzes Genre geprägt.

Was 1985 unter dem Namen Black Water begann, stellt mit 16 Studioalben, zehn Top 5-Platzierungen in ihrem Heimatland Finnland sowie über 40 weiteren Top-Chartplatzierungen weltweit und über 30 Jahren Konzerte & Touren auf der ganzen Welt eine beeindruckende Erfolgsgeschichte dar und gipfelte in den drei aktuellen Studioalben der Band: "Elysium", "Nemesis" und "Eternal". Alles Meilensteine in ihrem Sound, ihrer Kreativität und ihrem Songwriting.

Stratovarius ist eine der wenigen Bands, denen es gelingt, einen magischen Song nach dem anderen zu erschaffen. 29 dieser Ausnahme Songs, allesamt Favoriten der Fans (und es hätten noch viele mehr sein können!) haben Stratovarius kürzlich auf ihrem lang erwartetem "Best Of" Album präsentiert. Ebenfalls haben sie entschieden, dass es höchste Zeit wird, dass die 16 Studioalben und ihre seltenen Live Veröffentlichungen, in hochwertigen Verpackungen mit neuem Artwork, ausführlichen Liner Notes und seltenem und neu aufgenommenen Bonusmaterial, neu aufgelegt werden. Natürlich sind alle Alben zudem frisch gemastert.

Begonnen hat die Reissue-Reihe bereits mit einem der erfolgreichsten und beliebtesten Alben "Destiny" (1999) sowie dem Kult-Live-Album "Visions Of Europe" (1998). Im Sommer 2018 wird die Serie mit den nicht weniger erfolgreichen und beliebten Alben "Episode" (1996) und "Visions" (1997) fortgesetzt.

Nun haben sich diese beiden großen finnischen Ausnahmekünstler dazu entschlossen, gemeinsam auf Tour zu gehen welche unter dem Namen A Nordic Symphony '18 steht. Und nicht nur wer die Geschichte der beiden Acts kennt, wird sich vorstellen können, dass uns hier einiges mehr erwartet als nur einzigartige, herausragende Konzerte von Tarja Turunen und ihrer Band und Stratovarius!
Eventalarm for TARJA & STRATOVARIUS
News