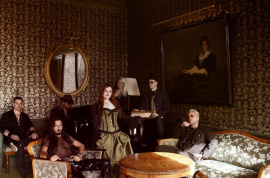 THERION tickets
Therion (formerly Megatherion) is a Swedish symphonic metal band founded by Christofer Johnsson in 1987. The word "therion" comes from the Greek therion (θηρίον), meaning "Beast," i.e., that of the Christian Book of Revelation. However, the bands name is a homage to the Celtic Frost album To Mega Therion.
Beginning as a death metal band, they later turned to combining orchestral elements with their metal music, employing heavy use of choirs and classical musicians, not only as additions to but also as integral parts of the composition. Therion is the first metal band with fully live orchestra featured. It is also the band which originated, popularised and influenced the symphonic metal genre, cited as "the most adventurous metal band at present". Because of these extents they take in conducting their music, they have been dubbed as "Opera Metal".[citation needed]
Therions music takes its themes from different mythologies and is based on concepts ranging from occultism, magic and ancient traditions and writings. The majority of their lyrics are written by Thomas Karlsson, head and founder of the magical order Dragon Rouge, of which Johnsson is a member. The band has seen many changes in line-up and style throughout its history.
History:
Therion was originally formed under the name "Blitzkrieg" in Upplands Väsby, Sweden. The founder, Christofer Johnsson, was originally the bassist and vocalist, despite having only played bass for 3 months prior to the bands formation. Joining him in this new band were guitarist Peter Hansson and drummer Oskar Forss. Johnsson and Hansson had met in several musical groups, while Forss was an old school friend of Johnsson. Blitzkriegs main influences were Metallica and Slayer, but their sound was similar to Venom and Motörhead. The band however never recorded any proper demos, and only did two concerts together. Blitzkrieg decided to split up in March 1988 due to problems with Forss. Only a few recordings survive to this day.[a]
The band was reformed later in 1988 under the new name Megatherion and began to be influenced by the Swiss heavy metal band Celtic Frost. The new group name was originated by their album To Mega Therion. Johnsson switched [from bass] to guitar, P. Hansson was still guitarist, while Johan Hansson became a new bassist and Mika Tovalainen a drummer. The band name was soon shortened to Therion and the rhythm section was replaced by Erik Gustafsson of Dismember as a bassist and Oskar Forss returned as a drummer.
Therion recorded and released in 1989 the first two demos, Paroxysmal Holocaust (limited to 600 copies) and then Beyond the Darkest Veils of Inner Wickedness (500 copies). In 1990, the band released EP release, Time Shall Tell. It was still technically a demo, as it was only published by a local record store House of Kicks in a printing of 1,000. The record got the band their first record deal with Deaf Records. Through this company, they released their first full-length album, Of Darkness....
Of Darkness... consisted of songs Johnsson had written in the 1980s; despite having newer songs, the band opted to save them for their next full release. The album can be seen as a progressive death metal album in that it contained mainly influences that were not standard to death metal at the time. The lyrics were very political, in the vein of Napalm Death and other late-1980s hardcore punk bands. The deal with Deaf Records was only for one album, and the band had never had a good relationship with the label, so after the release, they moved to Active Records.
The band began to record a second full-length album, entitled Beyond Sanctorum, in 1991. Before the recordings started Erik Gustafsson decided to leave the band in order to return home to the U.S., but Therion continued as a trio with Hansson, Forss and Johnsson filling in on bass guitar. The record Beyond Sanctorum shows a more experimental edge to the death metal music, with keyboards and clean vocalists used sparingly.
After this recording, the band ran into a few problems. Forss decided to leave the band, Hansson quit the band after health problems. The shows in the Central Europe were played using a new line-up. Piotr Wawrzeniuk, from the band Carbonized in which Johnsson also played, took up drumming duties. The guitar was taken up by Magnus Barthelsson, another old school friend of Johnssons, while Andreas Wahl took up the bass.
With the new line-up, the band recorded the experimental less death metal stylish, but more doom metallic Symphony Masses: Ho Drakon Ho Megas in 1993. As Therions first, and only, doom metal record it was very experimental, incorporating elements of jazz, industrial music, traditional 1980s heavy metal and religious chanting. This record sold more than the first two, but it was still only about 10,000 copies. Active Records then decided to scale down their operations and the band was switched to the new owners, Megarock Records.
The band, despite being popular with its hardcore fans, was still largely unknown. Sales were generally poor and the band members were having a hard time making ends meet. Despite the work they put in, there was no financial success for the band. Because of this, Barthelsson and Wahl were forced to quit the band. Fredrik Isaksson was brought into the band as the new bassist. After a few months break, in which Johnsson wrote a record as vocalist for Messiah, the band got an offer from the famous metal label Nuclear Blast. Despite the record deal, Megarock Records decided to let Therion go without any strings attached. The band signed a deal with Nuclear Blast in 1994 and remain with them to date.
The first record published with the new label was Lepaca Kliffoth, though a single entitled "The Beauty in Black" was released just before as a promotion for the new record. To Johnssons surprise, this single sold 12,000 copies, just in Europe, but the record company suddenly stopped printing it. The album was very experimental, featuring classical sopranos and bass-baritone singers, and also Johnsson with a completely new style of singing - more hardcore, as opposed to death metal. These more melodic touches seemed to pay off, as the album sold around 15,000 copies in the weeks following its release. Current European sales figures are around 35,000 copies. Fredrik Isaksson left the band after some personal problems, and Lars Rosenberg, from the death metal band Entombed, took his place.
In 1996 Jonas Mellberg was added to the line-up and Therion began recording their new experimental album, entitled Theli. The album heavily featured the vocals of two choirs, along with some vocals from Johnsson and Wawrzeniuk. Dan Swanö also contributed to the vocals on this album. The band used keyboards heavily, so many in fact that it was humorously called "Barmbek Symphony Orchestra" after the subway station next to the studio. Theli is considered to be the apex of Therions career to date. The sales reached 75,000 copies in a month, more than doubling the sales of Lepaca Kliffoth.
After recording was over, the mixing and mastering period became stressful. Mellberg was suffering from severe alcohol problems and literally walked out of the studio, never to return to the band. Rosenberg was also having problems with alcohol, but the band survived these problems long enough to release Theli. Johnsson also had a problem with the band members; Wawrzeniuk was busy with his studies and could not go on tour so Johnsson got Tommy Eriksson of Shadowseeds to fill in on drums. Tobias Sidegard was hired to play guitar, while Kimberly Goss was hired as a keyboard player and vocalist. Rosenbergs drinking problems got worse and in result of that, he was fired from the band.
In 1997 Therion released Aarab Zaraq - Lucid Dreaming album. The record contains a few unused songs from Theli, a few cover songs the band had made, plus a full soundtrack Johnsson had made independently for the short art movie called "The Golden Embrace".
The next album, Vovin, was recorded using professional studio musicians and Johnssons friend Tommy Eriksson helping out with some additional guitars. It featured, for the first time, a real string orchestra and a hand picked choir of considerable number. The Austrian singer Martina Hornbacher Astner and Sarah Jezebel Deva were chosen as the lead sopranos. Total sales were, in just two months, over 150,000 copies in Europe alone.
The band capitalised on this success and went on tour with the band Moonspell. The hired drummer, Sami Karppinen was offered a permanent place in the band. With this new line-up, the mini album Crowning of Atlantis was recorded. It was a short album fleshed out with several covers and live tracks that the record label and management insisted be placed on it to make it a full length album. Through Karppinen, Kristian Niemann joined the band on guitar, along with his brother Johan Niemann on bass.
Johnsson had already made material for the next release Deggial which is far more symphonic, employing far more complex orchestral scores, this time using a full orchestra as opposed to a simple string one. The record went on to sell more than Theli but never reached the high sales of Vovin. Therion then began a big tour to promote their new record. This was the bands first headline tour as before they had always been support acts to other bands.
Continue reading at wikipedia.com
Source and authors: Wikipedia / list of authors