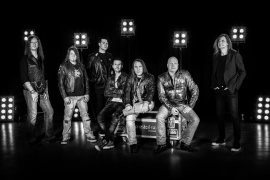 HELLOWEEN tickets
Helloween sind unbestritten einer der erfolgreichsten Rockexporte Deutschlands. Sie gelten nicht nur als Gründer des deutschen Speed-Metal, sondern auch als eine der einflussreichsten Bands ihres Genres. In ihrer inzwischen 30 Jahre andauernden Karriere spielten sie auf zahlreichen Festivals rund um den Globus, darunter Rock In Rio (Brasilien), Loudpark (Japan), Wacken oder dem Woodstock Open Air in Polen, bei dem sie vor über 500.000 Fans als Headliner auftraten.

Seit ihrer Gründung im Jahr 1984 blicken sie nicht nur auf zahllose Welttourneen, spektakuläre Shows mit Iron Maiden, Black Sabbath, Dio, Slayer oder Ozzy Osbourne zurück, sondern auch auf exotische Locations in Borneo, Indonesien, Manaus, Brasilien sowie La Paz in Bolivien, der mit 3200m höchstgelegenen Hauptstadt der Welt. Denkwürdig war ebenfalls der Auftritt beim Monsters Of Rock Festival in Castle Donington vor über 100.000 Zuschauern sowie die kolossale "Headbanger's Ball" Tour mit Anthrax und Exodus in den USA.

Bislang haben Helloween, inklusive der Meisterwerke "Keeper Of The Seven Keys" Part I & II, 14 Studio- und drei Live-Alben veröffentlicht. Sie verkauften mehr als acht Millionen Einheiten und wurden mit 15 Gold- und sechs Platin-Awards ausgezeichnet. Mit brillanten Riffs und eindringlichen Melodien begeistern sie nicht nur seit drei Dekaden ihre Fans, sondern beeinflussten auch den Sound zeitgenössischer Künster wie Edguy, Sabaton, Blind Guardian oder Avengend Sevenfold.

Die letzte Platte "Straight Out Of Hell" feierte mit Platz vier den bisher höchsten Charteinstieg in Deutschland und es kletterte nicht nur in fünf weiteren Ländern Europas in die Top 5, sondern erreichte auch die US Billboard Top 100. Die zugehörige Hellish Rock Part II-Tour lockte Fans in 39 Ländern Europas, Asiens und Amerikas in die Konzerthallen und bescherte der Formation mehr als 100 fast ausverkaufte Shows. Eine Bilanz die sich sehen lassen kann und ihresgleichen sucht.

Für das brandneue Album "My God-Given Right" haben sich die Pioniere des Melodic Speed Metals eine simple Devise auf die Fahnen geschrieben, wie Sänger Andi Deris manifestiert: "Back to the roots – aber mit neuen Songs!" Denn: "Die Fans wollen mehr denn je mitsingen und mitrocken. Und das funktioniert aber nun mal in erster Linie mit markanten Refrains – so wie in den hookigen Achtzigern!" Gitarrist Michael Weikath stellt aber klar: "Wir betrachteten es allerdings nicht als vorgegebenen Plan, auf Biegen und Brechen die Achtziger aufleben zu lassen – am Ende waren wir selbst überrascht, welch Eigendynamik sich in dieser Konsequenz aus dieser Arbeitshypothese entwickelte."

Musikalisch ist es ein vor Abwechslung nur so strotzendes Album geworden, das das gesamte Spektrum der Band abdeckt – angefangen bei den frühen Speed-Tagen à la "Helloween" und "Walls Of Jericho" bis hin zu den zuletzt modernen und leicht progressiv nuancierten Veröffentlichungen wie "7 Sinners" und "Straight Out Of Hellt". Ein Longplayer, der darüber hinaus exzellent die Achtziger-Trademarks der "Weenies" für die heutigen Hörgewohnheiten aufbereitet. Ein Werk, das zwar wie seine Vorgänger nach wie vor auch zu tiefgründigen musikalischen Entdeckungsreisen einlädt, aber auch zum unbeschwerten Sich-treiben-lassen. Und – last, but not least – ein würdiges Album zum 30. Jubiläum, das die Band vitaler denn je sowie ungebrochen in kreativer Höchstform präsentiert und mit dem das Quintett auch weiterhin der Rock-Szene rund um den Globus neue Impulse geben wird. So wie man es von den "Helden des Melodic Speed Metals" auch erwarten darf.