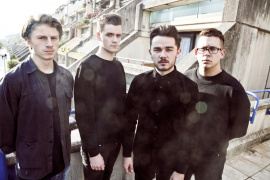 MAX RAPTOR tickets
Das Leben in einer Kleinstadt prägt dich oder bricht dich.

Für die aufstrebende UK-Punk-Band Max Raptor sieht es so aus, als bilde es die Grundlage für das, was sie sind. Frontman Wil Ray, Gitarrist Chris Gilbert, Bassist Matt Stevenson und Drummer Pete Reisner formierten sich schon 2006 und arbeiteten bei unzähligen Gigs am Feinschliff ihres Sounds. Auf den frühen Tourplänen standen zahllose kleine Städte mit noch kleineren Hallen – nichts besonderes für eine junge Band, aber für diese Combo aus dem Örtchen Burton-On-Trent war es endliche das Leben außerhalb der kleinstädtischen Enge, die sie geprägt hat, endlich das Leben auf der Überholspur.

Max Raptor stellen mit ihrer Musik dieses kleinstädtische Leben in Frage. Ihre frenetische Mischung aus melodischen Punk und High-Density-Rock bläst einem mitten ins Gesicht. Während sie sich in ihrem ersten musikalischen Leben eher bei den härteren Klängen des Nu-Metal bedienen, z.B. geprägt von System Of A Down, lehnen sie sich später eher an die Mitsing-Songs von Billy Talent an, mit denen sie genauso gemeinsam auf Tournee waren, wie mit The Stranglers.

Im Laufe der Jahre sind Max Raptor gereift, bringen mehr Respekt und Verständnis für das klassische Songwriting mit. Sie haben sich ihre Sporen auf der Straße verdient und sind durch die Arbeit am Album "Portraits" aus 2011 mit Produzent Dan Weller gewachsten. Aufgezeichnet in den Chapel Studios, einer umgebauten Methodisten-Kirche in Lincolnshire, sind sie mit der aktuellen EP "Damage Appreciation" (VÖ Nov. 2015) bei ihrem ganz eigenen Sound angekommen.
Eventalarm for MAX RAPTOR