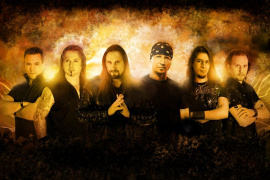 SERIOUS BLACK tickets
A new band - 6 members, 6 friends - all with huge experience and knowledge from many years in the business and being part of the most successful melodic metal bands: this is Serious Black! The line-up consists of Roland Grapow (Masterplan, ex-Helloween), Thomen Stauch (ex-Blind Guardian), Mario Lochert (ex-Visions Of Atlantis), Dominik Sebastian (Edenbridge), Jan Vacik (ex-Dreamscape) and (last but not least) the golden voice of Urban Breed (ex-Tad Morose).

Serious Black is different to many of the so-called all star bands, because in fact, they are a real band. A band that crafted their incredible debut album "As Daylight Breaks" together, with every member involved into songwriting and recordings, a band that cant wait to enter the stages. "As Daylight Breaks" is a real teamwork effort, a melodic metal jewel displaying conviction, amazing
musicianship and outstanding songwriting. Fans who embrace classic melodic metal in the vein of Avantasia or Masterplan have found a new favorite band now: Serious Black!
Eventalarm for SERIOUS BLACK