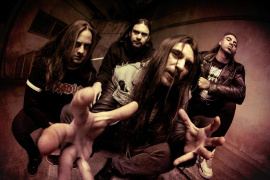 SUICIDAL ANGELS tickets
Suicidal Angels sind eine griechische Thrash-Metal-Band, welche 2001 in Athen gegründet wurde. Das Debütalbum "Eternal Domination" wurde im Jahr 2007 veröffentlicht, nachdem die Band bereits mehrere Demos und EPs veröffentlicht hat. Die Band stand bei OSM Records, einem griechischen Indie-Label, und Nuclear Blast Records unter Vertrag. Seit August 2010 stehen Suicidal Angels bei NoiseArt Records unter Vertrag. Bisher hat die Band sechs Studioalben veröffentlicht und teilte sich die Bühne mit Legion Of The Damned, Kataklysm und Exodus.

Als Karriere-Highlight kann die Auszeichnung mit dem "Rock The Nation Award" 2009 gesehen werden, wodurch der Band mehr Aufmerksamkeit zuteil wurde.
Eventalarm for SUICIDAL ANGELS