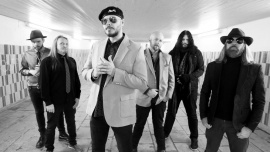 THE NIGHT FLIGHT ORCHESTRA tickets
The Night Flight Orchestra begann wie so viele Andere als unschuldige, aber ernsthafte Schnapsidee, als Björn "Speed" Strid (Soilwork) und David Andersson (Mean Streak, als Sessionmusiker bei Soilwork) zusammen unterwegs waren, irgendwo in Nordamerika 2007. Björn und David erzählten sich etwas über ihre Definition dessen, was "Classic" ist und was nicht, über Rock'n'Roll-Verschwörungstheorien bis hin zu Festnahmen in Hotel-Lobbys, oben ohne. Alle diese Szenarien, eingebildet oder wahr, brauchten einen Soundtrack. Sie dachten sich zudem irgendwann, dass auch auf einer Metal-Tour viele Classic Rock-Songs sehr ausdrucksstark sind und eine helfende Hand sind, dabei, alles zu vergessen, sich nur auf die Reise zu konzentrieren. Der klassische Ausweg. Der nie endende Roadtrip. Der transatlantische Nachtflug.

Es mag simpel und naiv klingen, aber am Ende ist dieser Soundtrack das, was wir brauchen, um uns besonders zu fühlen, ob man schon mal in einer Lobby gefangen genommen wurde oder nicht. Es dauerte nicht lange, bevor der Bassist Sharlee D'Angelo (Arch Enemy, Spiritual Beggars) zusammen mit Keyboarder Richard Larsson (Von Benzo) und Drummer Jonas Källsbäck (Mean Streak) zu ihnen stieß. Das Ziel war es, den Sinn für klassische Melodien der 70er und frühen 80er wiederzufinden, das vergessene Rezept für einen zeitlosen Song, am besten einen, der eine Stadt, einen Straßennamen oder ein beschwingendes alkoholisches Getränk erwähnt. Alles, was das Wort "Classic" in den Hinterkopf ruft. Von "Tarot Woman" bis "Badlands", von "Rhiannon" bis "Running on Empty", von "Blind Man" bis "Night Moves", von "Deuce" bis "Seperate Ways", von "Elected" bis "Set me Free". Die Liste geht weiter. Es geht nur um "Classic".
Eventalarm for THE NIGHT FLIGHT ORCHESTRA
News