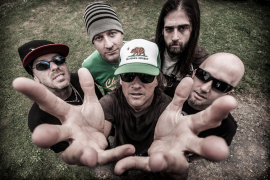 UGLY KID JOE tickets
Ugly Kid Joe ist eine US-amerikanische Hard-Rock-Band, die 1989 in Kalifornien gegründet wurde und sich 1997 auflöste. 2010 fanden die Musiker wieder zusammen und arbeiteten an einem neuen Album, das 2015 fertiggestellt wurde.

Musikalisch vereint sie Hardrock, Heavy Metal und Funk. Bekannt wurden Ugly Kid Joe einem breiteren Publikum in Deutschland hauptsächlich durch die Hit-Singles "Everything About You" und "Cats In The Cradle", einer Coverversion des Songs von Harry Chapin.

Der Name der Band ist eine Anspielung auf die in den 80ern recht erfolgreiche Glam-Metal-Band Pretty Boy Floyd. Man kam auf den Namen, da ein gemeinsamer Auftritt mit jener Band geplant war, der von Pretty Boy Floyd jedoch abgesagt wurde. Eigentlich wollte man den Namen nur für diesen einen Auftritt annehmen, um die Unterschiedlichkeit der beiden Bands zu betonen, jedoch behielt man ihn bei.

Im Oktober 1991 wurde innerhalb weniger Tage die EP "As Ugly As They Wanna Be" aufgenommen, die in Europa im Mai 1992 erschien. Der Titel wurde abermals mit einem Augenzwinkern gewählt. Er sollte auf das Album As Nasty as They Wanna Be der Gruppe 2 Live Crew anspielen. Durch das Lied "Everything About You" wurde erstmals ein größeres Publikum auf die Band aufmerksam, da es in dem erfolgreichen Film Wayne's World verwendet wurde. Ein relativ einfach gedrehtes Musikvideo – der gesamte Song wurde am Strand gefilmt – folgte kurz darauf und wurde häufig bei MTV gezeigt. Dies gipfelte schließlich darin, dass "As Ugly as They Wanna Be" als erste EP durch die RIAA mit mehrfachem Platin ausgezeichnet wurde.

Auf dem zweiten Album der Band, "America's Least Wanted" finden sich ihre bekanntesten Songs: "Cats In The Cradle", "Madman", "Goddamn Devil" und "Everything About You". Auf dem Album spielen verschiedene Gastmusiker mit, darunter Dean Pleasants von der Gruppe Infectious Grooves und Rob Halford von Judas Priest.. Unmittelbar nach den letzten Aufnahmen begab die Band sich auf eine USA-Tournee, zunächst als Vorgruppe von Ozzy Osbourne und schließlich von Def Leppard.

Nachdem die Band im Dezember 1996 von ihrer Europatournee zurückkam, wurde sehr schnell deutlich, dass keiner der Beteiligten noch den vollen Einsatz für die Band bringen wollte.

Resultat dieser Gespräche war schließlich die Auflösung von Ugly Kid Joe. Es wurde von allen Seiten allerdings betont, dass man sich nicht im Streit getrennt habe: Für das AC/DC-Tribute-Album Thunderbolt kam es 1997 zu einer teilweisen Wiedervereinigung von Ugly Kid Joe:

In der Dezemberausgabe 2009 des deutschen Magazins Metal Hammer sagte Eichstadt, dass für den Sommer 2010 eine Reunion geplant sei. Im Juni 2012 wurde schließlich die selbst produzierte 6-Track-EP "Stairway To Hell" veröffentlicht. Die Band spielte zudem weltweit diverse Konzerte.

Das Album wurde in Covingtion, Louisiana in den Balance Studios aufgenommen, unter der Leitung von Dave Fortman (Slipknot, Godsmack, Evanescence).

Die Chemie des Albums ist so stimmig und überzeugend, als wäre die Band niemals weg gewesen. "Uglier Than They Used Ta Be", beinhaltet eine Sammlung von kernigen, handgemachten Rock Songs wie '"Let the Record Play",''To The Hard-Hitting" oder "Hell Aint Hard To Find". Dazu emotional gesteuerte Stücke wie "Enemy". Insgesamt vereinen Ugly Kid Joe auf diesem Album die mit stärksten Songs ihrer Karriere.

"Es ist sehr facettenreich," sagt Frontmann Whitfield Crane' "es gab bei der Produktion viel Enthusiasmus und Talent in einem Raum, und genauso klingt das Album auch."
Eventalarm for UGLY KID JOE